One of the primary ways we build relationships and cultivate fellowship with each other is through a network of small groups—what we call "Care Groups." While we are joined to all believers in the local church, Care Groups allow us to relate more deeply with a small number of people. An integral part of our church's ministry since its founding, Care Groups provide an important context for accomplishing a number of biblical priorities.
"The value of the small group is that it can become a community of related persons, and in it the benefit of relatedness cannot be missed nor its challenge evaded. I do not think it is an exaggeration to say, therefore, that small groups… are indispensable for our growth into spiritual maturity."
Purpose
Application of God's word to our lives. Merely hearing God's word is insufficient; we must apply it to our lives for there to be fruit. Care Groups enable us to do this together. We seek to apply the Bible's teaching, review Sunday messages, discuss Christian books, and use a variety of other resources with the intention of growing in the grace and knowledge of our Lord Jesus Christ.
Pursuit of biblical fellowship. Genuine fellowship isn't practical in a large crowd. Care Groups provide a place where we can build intimate relationships, care for one another, and help each other grow in our relationship with God.
Ministry to one another. God has made us dependent on each other, and Care Groups provide a context where we can minister to each other with the gifts that God has given us. Meetings often include times of prayer for one another and opportunities for individuals to exercise spiritual gifts for the edification of others.
Participation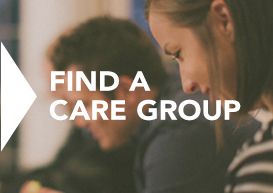 Membership at Potter's House Sheffield involves active participation in a Care Group. Those who are new to the church can attend Starting Point right away and begin connecting with the pastors, beliefs and values of the church.
Starting Point-before any service is a great place to ask questions and get to know others who are exploring whether to make Potter's House Sheffield their church home. After completing Starting Point, participants have an interview with a pastor and are then placed in a Care Group.